Did you get a coupon code to save 50%?
If you did not get a coupon code yet, follow these directions to save 50% on GradePEP before ordering below.
Order GradePEP Below
Click "Add To Cart" below. Then, enter your coupon code on the next page and click the "Apply" button to get GradePEP for $1.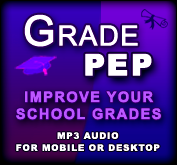 Click the "Add To Cart" button and get started.
GradePEP works with Masmoola Kidpreneurs and Masmoola Coupon Codes, a new age digital lemonade stand developed specifically to create a free and safe environment where entrepreneurial minded children of all ages can earn money while obtaining a valuable, real world business education all for free.