About GradePEP
GradePep is a simple, 12-minute audio relaxation visualization exercise proven to improve school grades, focus, test taking and study ability. GradePEP audio exercise is also proven to eliminate test anxiety, ADHD and the need for Ritalin.
From Kindergarten to college level, students of all ages will benefit from GradePEP audio visualization exercise.
Life-changing Benefits
I was struggling so badly in college accounting, I remember leaving class one day in tears after seeing my failing test grade. Then, by luck, I was introduced to this powerful audio relaxation visualization exercise and soon after, failing grades were no longer an issue. I will never forget taking my final accounting exam in less than half the time of my classmates and the look of disbelief on their faces when I walked through the classroom after handing in that final exam so quickly. The instructor posted final exam grades on the hall wall the next day and my test score was third highest out of 90 students.
More Incredible Benefits Achieved
A lady friend of mine had an 8-year-old son who was struggling so badly from ADHD, his teacher was pressuring the mom to put the boy on Ritalin. According to the teacher's letters to the parent, his grades were terrible, he could not focus and he was disruptive in class every day. The boy was even bed-wetting at the time. When I learned of all the issues, I told the mom about the benefits I gained from the relaxation visualization exercise and I offered to walk her son through the simple exercise. She said okay, and after only two times doing the exercise in two days, the positive results afterwards were amazing and fast. Within one week after going through the short exercise only two times, the teacher sent home a positive letter stating: "Whatever you are doing for the boy, keep doing it." The teacher also explained, his grades improved dramatically and he was no longer disruptive in class. According to the mom, his ADHD was gone completely, he never had to take the drug Ritalin and he even stopped bed-wetting.
I learned about this powerful relaxation visualization exercise from a college counselor and after I experienced the incredible results and also saw how the boy responded, I knew this simple exercise could benefit thousands of children. So, I created GradePEP specifically for students of all ages.
Some psychologists custom create these relaxation visualization exercises for more than a thousand dollars, but you can take advantage of this powerful exercise for only $26 with a Masmoola Coupon Code.
Buying a Masmoola Coupon Code for GradePEP gives you 50% savings for the extra step to help a young entrepreneur earn money, because when you buy any Masmoola Coupon Code, a Masmoola Kidpreneur earns money. Everyone wins!
GradePEP audio relaxation visualization exercise will make a huge positive difference in your life if you struggle with school grades, test taking, studying or ADHD.
Better grades in school offers students a brighter future with higher annual earnings.
Get your Masmoola Coupon Code for GradePEP now to help a young entrepreneur earn money and to save 50%, and once you get that coupon code, come on back here to use your coupon code during checkout.
Get GradePEP Now!
Order GradePEP audio exercise now in MP3 format for your mobile device and/or desktop computer.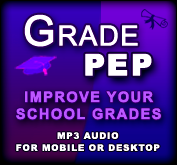 Click the "Add To Cart" button and get started.